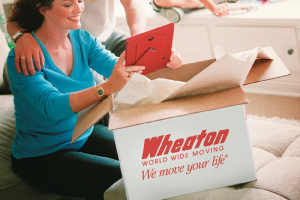 HELPFUL HINTS FOR A CAREFUL AND MOST EFFICIENT MOVE
We would like to make the following suggestions to help make your move run as smooth as possible. The more prepared and organized you are, the more efficiently our crew can work which will ultimately save you time and money.
LAMPS:
A. SHADES: Should be packed in individual boxes.
B. BASES: Should also be packed in boxes. Sometimes you can combine lamp bases as long as they are wrapped individually and carefully packed standing up.
MIRRORS, PICTURES, GLASS & MARBLE
These items should be placed into individual mirror boxes. Smaller pictures can sometimes be wrapped individually and lined standing up in a box. It is important to pack these fragile items properly.
CHINA HUTCH, CURIO CABINETS, WALL UNITS:
Remember to pull out shelves whether they are wood or glass. Also remove the pins (if possible) that hold the shelves so they do not get lost.
APPLIANCES:
A. WASHERS – All hoses must be disconnected and can be placed inside the machine.
B. GAS DRYERS – Gas MUST be turned off and the gas line removed from the dryer. All exhaust pipes must also be removed.
C. REFRIGERATORS & FREEZERS – Ice hook-ups and water lines should be disconnected. These items must be free of all
food and defrosted prior to the move. You also need to empty the drain pan under the front gate.
D. Our drivers and helpers are not permitted to disconnect any appliances.
BOXES:
A. All boxes must be taped on the top and bottom.
B. LABEL all boxes with contents and which room the box is to be delivered to in the new residence.
C. Try to consolidate your smaller lightweight boxes into larger boxes.
D. Boxes (Packed by Owner) vs (Packed by Carrier) – in the case of internal damage within a PBO, evidence of physical
damage to the container must be proven in order to be covered by liability.
FLAMMABLES: No flammables are permitted on the trucks. (eg., paints, thinners, aerosol cans, barbecue tanks, etc.). Do not pack liquids
that can leak or possibly spill onto other items.
DRESSER DRAWERS: Clothing ONLY can remain in drawers. Do not leave money, jewelry, or other high valued documents to be moved by movers. They are not covered by insurance and it is the customers' responsibility. You also need to empty all desk drawers, night stands, coffee tables and end tables.
SEWING CABINETS: All sewing machines/heads must be removed from the cabinet prior to the move. Movers will not be responsible for removal or spillage from machinery.
ACCURATE ESTIMATES: On the top of every estimate form there is a weight and an estimated number of boxes to be moved. Your moving
quotation is based on the quantities of these articles. It is the customer's responsibility to inform the estimator if these
quantities change. Remember; an estimate is only as accurate as what we will actually be moving and changes and additions will
probably result in differences in cost.
DEPARTURE FROM YOUR RESIDENCE: It is the customer's responsibility after loading, to do a complete walk-through to make sure all
articles to be moved are on the truck before the truck departs for the next stop. It is also the customer's
responsibility to walk through at the final destination to make sure everything has been put in the correct rooms and
fully reassembled by the movers before they depart.
ELECTRICAL WIRING: When disassembling wall units containing electrical wiring, the movers may assist in disconnecting. However, we
will not be responsible for reconnecting.
COPIERS: It is the customer's responsibility to remove all toners/fluids prior to having any size copier moved by the movers. The
movers will not be responsible for spillage.
GRANDFATHER/GRANDMOTHER CLOCKS: It is the customer's responsibility to remove weights and the pendulum from all Grandfather &
Grandmother clocks. Hanging chains must also be secured by the customer.
PLANTS: Plants can be moved on our trucks; however we are not responsible for leaves or branches. It is the customer's responsibility to prepare plants/trees for moving.
Feeling overwhelmed? All Brunswick Van Lines offers full service packing services to go along with your move. Call now for your free no obligation estimate. 732-274-1881