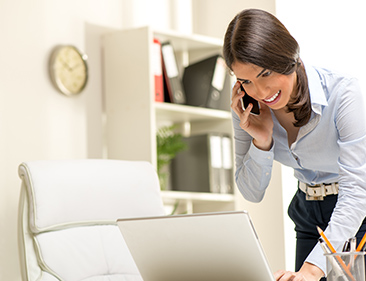 For decades, Wheaton has helped families and individuals through relocations. It can be daunting and stressful, but over the years we've noticed a few of the same questions seem to keep coming up. To make things a little easier, we've compiled some of the most frequently asked questions that we receive to provide our customers with a resource they can refer to any time they need.
GETTING STARTED
What is an interstate agent?
Wheaton agents are individually owned and operated businesses located throughout the country. When a customer moves from one state to another, agents are authorized to act on behalf of the van line, Wheaton, to transport goods across state lines (hence, interstate agent). These agents have met the service and quality standards set to become an agent for Wheaton.
Your local Wheaton agent  All Brunswick Van Lines will work with your move manager to coordinate your move with the agent at your destination, ensuring the safe transit of your belongings.
When is the best time to move?
The best time to move is when it's right for you. However, there are some times of the year that are busier for the moving industry than others. The summer months (May – September) and the end of each month are periods of heavier demand.
ESTIMATES
When should I begin to contact companies about estimates for my upcoming move?
It is a good idea to contact the moving companies you are considering for your move with as much notice as possible. It is ideal to have companies provide an estimate five to six weeks prior to your desired move date. Try to select the moving company four weeks before your moving date. Be sure to sign the Estimate/Order for Service and confirm your packing, pick-up, and delivery dates.
What is an in-home estimate?
The goal of an in-home estimate is to provide as accurate a figure as possible with regards to your moving expense. During your in-home estimate, your agent will survey your home and take into account the specific items you will be moving, using their rigorous training to inform their calculations.
What are my rights and responsibilities when I move?
All moving companies are required by federal law to make Your Rights and Responsibilities When You Move available to customers. Your primary responsibility as outlined by the Federal Motor Carrier Safety Administration is to select a reputable household goods carrier, ensure that you understand the terms and conditions of the contract, and understand and pursue the remedies that are available to you in case problems arise. You should talk to your mover if you have further questions. The moving company will also furnish you with additional information describing its procedure for handling your questions and complaints, and a telephone number you can call to obtain additional information about your move.
LOADING AND DELIVERY
What can I expect on moving day?
When your Wheaton driver arrives at your home, he will conduct an initial walk-through of your home. Be sure to let the driver know what items are to be shipped, and what will stay. The driver and his crew will then prepare your house by protecting the floors and doorways. Once loading is ready to begin, the driver will use the inventory form to document the items, and their condition, going on the truck. Items will be properly padded and protected going on the truck.
After your belongings are loaded on the truck the driver will ask you to sign some paperwork, including the Bill of Lading, High-Value Inventory, and Inventory
What is a shuttle?
Shuttle service is the use of a smaller vehicle to provide service when the residence is not accessible to the mover's normal equipment. Shuttle service at origin involves loading the goods onto a smaller vehicle then transporting and offloading them onto the mover's normal equipment. The process is reversed at destination, if necessary. Depending on the weight of the shipment, this could involve several trips with the smaller vehicle.
How will I know when my shipment is going to be delivered?
Based on the weight of your belonging and the distance they're being transported, your local Wheaton agent will provide you with a range of days during which your belongings will be delivered. Your driver will contact you 48 hours prior to the delivery of your belongings. Ensure that the driver has your destination contact information prior to his departure from your origin residence.
Should I tip my movers?
Wheaton World Wide Moving strives to deliver the highest level of service with each move. The van line does not require customers to tip their movers nor is a gratuity included in your moving fees. Although tipping is not part of Wheaton's policy, it is greatly appreciated, especially if your movers have done an exceptional job. If you feel the service received during your move warrants a tip, you can determine this by calculating a percentage of your moving charges (anywhere from 5-15 percent) or give a flat rate per person ($10-100). Consider the distance of your move and difficulty of the services performed when determining your gratuity. It's also possible to express your gratitude in ways other than money. Having water available throughout the day and/or making lunch available to the crew can go a long way in expressing your satisfaction. Completing our survey after your move is complete and posting online reviews are easy ways to ensure your positive experience is noted.