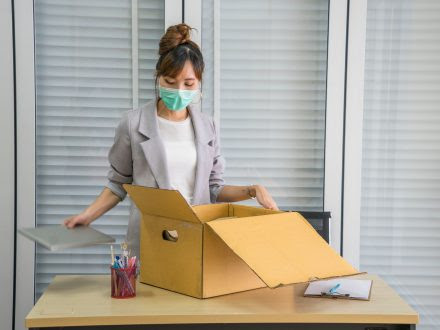 The health and safety of our customers and our employees, is one of our top priorities especially during the COVID-19 pandemic. We are following CDC guidelines by wearing personal protective equipment (PPE), washing hands frequently, and requiring any staff to stay home if they feel ill. There are also things you can do as a customer to safeguard yourself and your family. Follow these steps during your move to help keep your family happy, healthy, and safe.
WEAR A MASK WHILE OUR MOVING CREW IS IN YOUR HOME
When our crew enters your home, wearing your mask is an easy way to ensure safety during your move. Don't forget to keep your mask on hand to wear again when the crew delivers and unpacks at your new home.
LIMIT THE NUMBER OF PEOPLE IN YOUR HOME
You will only need one person available to supervise and answer any questions that may come up during the packing/loading process. If possible, send the rest of the family out for the day to limit the number of people in your home. This is especially important if you have young children. They often don't understand or remember to practice social distancing.
MAINTAIN 6-FOOT SOCIAL DISTANCING
Handshakes are unnecessary while we all practice social distancing. When you open the door to our crew, please step back to let them in with a wave!
WIPE DOWN HIGH-TRAFFIC TOUCHPOINTS
Our crew will wash their hands frequently during your move, so please allow them access to your sink. You can help even more by wiping down high-traffic touchpoints like door handles and light switches. Wipe down these areas before the crew arrives, a couple more times during the packing and moving process, and then again once the crew leaves.
WEAR GLOVES WHILE YOU UNPACK
Once our crew is gone and the brunt of the move is behind you, you will still have unpacking ahead of you. Keep yourself safe by wearing gloves as you handle the boxes. In addition, throw away the boxes—or quarantine them—rather than immediately passing them along to a new owner.
Our top concern is the safety of our customers, our drivers, and crew and we ask that you do all that you can to help make your move as safe as possible. If you are getting ready to move and are need of a mover, contact us now for your free no-obligation estimate. It can be done in person or virtually. 732-274-1881.