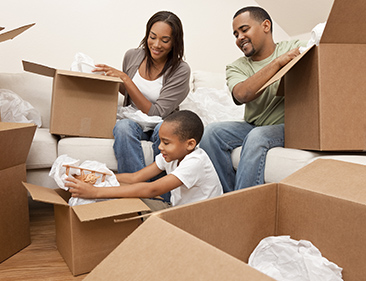 Packing can seem like a monumental task at the start of your move. Read on to learn more about our packing services, or contact your agent today.
FULL-SERVICE PACKING/UNPACKING
Packing can be a chore, so why not have us do it? Our full-service packing, crating, and unpacking services mean you don't have to lift a finger. And if you're worried about protecting your belongings during the move, using packing services ensures you won't be liable if the unexpected occurs.
PACKING FOR DIFFICULT OR FRAGILE ITEMS
Maybe you don't need our services for every last little thing, but if there are items in your home that are especially delicate or fragile, consider having us pack them safely for you. We can even offer special cartons for your mirrors and pictures.
SPECIAL PACKING FOR SENSITIVE ELECTRONICS
Laptops, tablets, computers, game consoles, LED and plasma flat screen TVs—it seems as though every year, more delicate electronics come into our lives. If you're concerned about moving them safely, let us take care of the packing.
ADVICE AND QUALITY PACKING MATERIALS
You've moved before, and you'll move again, so you may be totally comfortable with this whole packing thing. If that's the case, we're still standing by with any materials and advice you may need to get the job done.
PRO TIP: THE MOVING IN/OUT BOX
No matter which packing option you choose, we suggest you designate one box in particular as your moving in/out box. It's the last box you'll pack, and the first you'll open up in your new home. That's because it contains all the things you'll need right up until you move, and the first items you'll want when you're settling in. They can include:
Towels
Toiletries
Tissues/paper towels
Vacuum cleaner
Non-aerosol cleaning supplies
Plastic cups, plates, and utensils