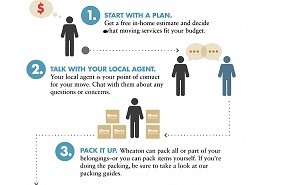 Moving in Eight Steps
Taking the time to make a plan helps your whole move unfold more smoothly. It's always a good idea to book your move as far in advance as possible, and your agent will get you started with a free in-home moving estimate. Ideally, this estimate will be scheduled at least five-to-six weeks ahead of your move, and you'll want to choose your moving company at least four weeks ahead of your moving date.
Your agent can also help advise you on what services you may need for packing and storage, and can help explain your valuation and protection options.
1. Start with a plan
Get a free in home estimate and decide what services meet your budget.
2. Talk with your local agent
Your local agent is your point of contact for your move. Chat with them about your concerns.
3. Pack it up
Your moving company can pack all of your belongs or you can pack the items yourself. If packing yourself, be sure to look at our packing
guides.
4. Into the truck.
Your driver and crew will prepare your home and will move everything so that you do not need to lift a finger. Plan on being there to sign
documents and provide directions to the driver.
5. Getting from A to B
Your long distance driver will let you know the estimated arrival time two days in advance. Stay in touch with your local agent for progress
reports.
6. Delivery Day
Plan to arrive early to meet the driver and crew. Payment is due before unloading for interstate moves. During unloading, you will have time
to inspect your belongings and make sure everything has arrived.
7. Out of the box
We can assist with unpacking, or if you would rather do it yourself, that works too. We are also happy to recycle your boxes and cartons.
8. How Did We Do?
We hope that your move is fantastic and are always looking for ways to improve our service. You will receive a customer satisfaction survey
after your move is complete. Please take a few minutes to let us know how we did.