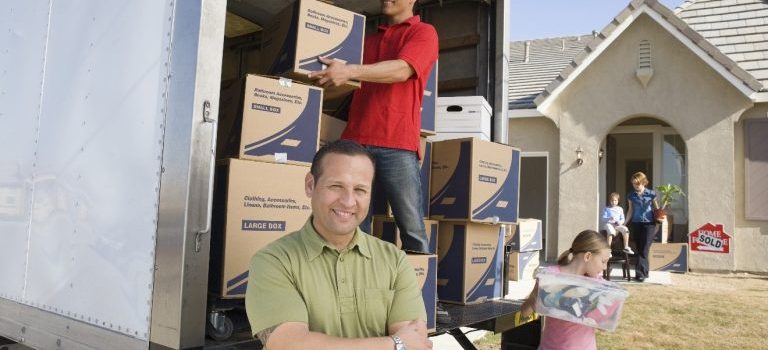 GATHER THE NECESSARY SUPPLIES
The next step is to gather all the supplies you will need to pack up and get out of your home as quickly as possible. The necessary supplies include cardboard boxes, packing tape, and news print.
If you've run out of packing materials, and time is running out, you can use items in your home in a pinch. For example, place clothing inside suitcases. In some instances, clothing can be left in dresser drawers. Be sure to verify this with your mover. Wardrobe boxes can be used to transport hanging clothes.
Consider renting a dumpster as well. Because you're short on time in a last-minute move, hiring a dumpster will make it easier to toss any garbage and broken, damaged, or unwanted items. This step will save you several trips to your local waste management provider. Note, however, that you cannot place certain items in your dumpster. These items include electronics, batteries, household chemicals, food, and tires.
GET AS MUCH HELP AS POSSIBLE
Asking friends and family members to help you declutter and pack saves you time. You can also gift items that you no longer need or want to your friends. This will save you a trip to your local donation center.
Divide your loved ones into teams, and assign each team a room. Give them the necessary supplies and put them to work. In addition to helping you pack up more quickly, your friends and family will talk you out of keeping items that you won't use or are out of style.
DECLUTTER AND PACK EACH ROOM
Next, begin decluttering and packing every room. Tackling each room one at a time will help you focus on the task and prevent you from becoming stressed about the amount of work ahead of you. When decluttering, divide everything into four piles: keep, throw away, recycle, and donate or give away.
You are short on time, so you cannot agonize over every item. Instead, take a look at the item and if it isn't used on a daily or weekly basis, isn't a seasonal item, no longer fits, is stained or damaged, or you simply forgot it existed, you do not need to keep it. Remember, all the unnecessary clutter you put into boxes will cost you precious time, and money with your mover.
Once you are finished decluttering the room, pack up all the belongings. Start in rooms that you don't use as often, or contain items that you won't need on a daily basis, such as your spare bedroom, the basement, attic, or the living room. Save the bedrooms, bathrooms, and kitchen for last.
ON MOVING DAY
Moving day is finally here and it's time for the trucks to be loaded. While the movers are emptying your home and apartment, take this opportunity to do some last-minute cleaning, and walk through each room to ensure you don't leave anything important behind.
Moving last minute can be stressful,call All Brunswick Moving and Storage for help with your last minute move.