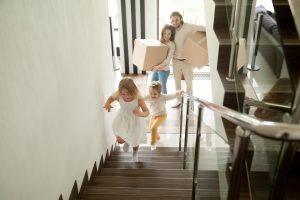 Moving can be a very stressful time in someone's life. Follow our steps to make your move easier and to relieve some of the stress before and on your moving day.
1. Start by Decluttering Your Home
Everyone has items that haven't been used in years. You can begin by separating items into 3 categories- keep, toss and storage. Go through unused or unwanted items and donate or dispose of the items. Shred old paperwork like bills or bank statements that are no longer needed. Once your decluttering is done it will be much easier to pack the items that you plan on taking with you.
2. Take Pictures of How Cables and Cords are Connected
Take photos of how your televisions, computers or other electronics are connected before disassembling. They will come in very handy when reassembling in your new home. This will save a lot of time when putting things back together.
3. Create a Playlist for Packing and Moving
Music sets the mood for any activity and has been called a universal language for good reason. Upbeat tunes can help a monotonous task get done faster. Songs like Begin Again by Taylor Swift, Good to Be Alive by Andy Grammer, or Life is a Highway by Rascal Flatts are just a few on our moving playlist.
4. Mark Boxes Clearly
All boxes should be labeled when packing. Labeling the box with the name of the room that it should be placed in is an extremely important step in making unpacking easier. Some items you will need to transport yourself or get rid of before the move. Moving companies have strict rules on what's not allowed to be transported on the truck. The U.S Department of Transportation cautions that it is against the law to transport hazardous substances. Some items that are not allowed are:
Pesticides
Cans of Paint
Charcoal
Firearms
Ammunition
Lighter Fluid
Aerosol Cans
Nail Polish/Remover
Cleaning Agents
Frozen or opened food items
Call 732-274-1881 or use our request a quote form to schedule your free in-home estimate for your next move. We are happy to help you plan your move with a hassle free moving quote. Our seasoned professionals will work with you to ensure a safe, successful move.