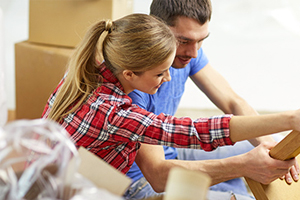 Whether you're listing your home for sale, moving to a new apartment, or being relocated for work, most likely, one of the many people that you will need to contact is a mover. However, it can be challenging to find the right moving company for your relocation.
But it doesn't have to be. With a few simple steps and a little bit of research, you can ensure that you are prepared and select the best mover for your move.
Get referrals from friends or family who have moved recently
Moving to a new home can be an overwhelming process. However, referrals from friends or family members who have gone through the process recently can be invaluable.
Friends and family are often more than willing to share their experiences and referrals for trusted services ranging from movers and realtors to cleaners and handymen. Additionally, they will have insights regarding the area that you may not find anywhere else.
So if you need a recommendation or two going into your move, start with those closest to you who have recently experienced it too!

Research each company you're considering online
Doing your research is the key to finding the perfect company for you. Taking the time to look into each business or brand you are considering is super important so that you can make sure it aligns with your values and goals.
There's a ton of information available online, so don't be afraid to dive into reviews, get familiar with team members, check out their website, and do other digging to find out what they have to offer. Knowing as much as possible will make all the difference when choosing which direction is right for you.
Check for customer reviews and testimonials
Before investing in any product or service, it's always a good idea to take some time and check out customer reviews and testimonials. After all, it's the customers' experiences that can truly tell you what you can expect. Reading reviews and testimonials may also give you important insider knowledge that could save you time or money.
Rather than wasting your hard-earned cash on an unknown quantity, why not search for customer feedback first? You just might thank yourself later!
Make sure the company is licensed and insured
When hiring a company to complete a project, it's important to make sure you hire someone you can trust to get the job done right. Before signing any agreement, be sure that they are licensed and insured.
It's a simple check that provides peace of mind should any problems arise during their work. Becoming licensed and insured is no small feat– it means the company has passed strict regulations put forward by the governing bodies, meaning they have proven experience in the field they are working on.
This checklist item proves that they are trustworthy and reliable, so don't overlook this step before giving any contractor the green light!
Get an estimate from each company before making a decision
When it comes to making decisions, the last thing you want to do is set yourself up for disappointment. That's why it's important to ensure that you have the right information so that you make the best decision possible.
Getting an estimate from each company is a great way to make sure you know what your options are and how much each would cost. It's also a savvy step toward finding the best deal.
Take your time, compare prices and services, then move forward confidently with a well-informed choice
All Brunswick Makes Choosing The Right Mover Easy
As an agent for Wheaton World Wide Moving, our agency does all it possibly can to be "The Right Mover."

This is what you can expect from our service:
CLEAN EQUIPMENT: Our truck and all of the equipment on them are kept very clean. We will subject our equipment to inspection at any time.
EXPERIENCE: On your moving day, you will be furnished with a professional crew that is supervised by an experienced moving road driver.
COMPETITIVE RATES: Our rates for local and long-distance moving are extremely competitive.
PLACEMENT: Upon delivery, your belongings will be placed in the proper rooms where you want them to be placed.
FOLLOW-UP SURVEYS: After each move, customer service forms are given so that we may keep control over each and every move. These reports are located on our website and are also at your disposal at the time of the estimate. Customer Service Reports
SEAL OF APPROVAL: Wheaton World Wide is endorsed with "THE GOOD HOUSEKEEPING SEAL" of approval. This applies to interstate moving.
AGENT OF THE YEAR: Our company, All Brunswick Van Lines, was awarded the Wheaton World Wide Agent of the Year for 2018. We have also received the Aspire award for customer service
Ready to get a quote? Get in touch today: https://allbrunswick.com/request-a-quote/