PLANNING YOUR MOVE
Creating a plan for your move will help your move run smoothly. It's always a good idea to get your estimates and book your move early, All Brunswick Moving & Storage can get your move started with a free in-home moving estimate. Ideally, this estimate should be scheduled at least five-to-six weeks ahead of your move and you'll want to choose your moving company at least four weeks ahead of your moving date.
Our sales representatives can also advise you on what services you may need for packing and storage, along with explaining our valuation and protection options.
PACKING
Whether you use our professional packing services or you decide to pack things yourself with the help of our guides, packing things the right way is the first step toward ensuring they arrive safely at your destination. The time spent packing (and the materials used) will depend largely on the items you're moving especially if they're unusual or specialty items, so it's a good idea to schedule an in-home estimate to help determine the best way to prepare for your move.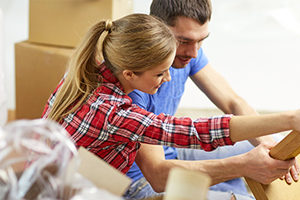 LOADING
Our movers will load your belongings onto our truck, making sure everything is packed securely and safely. The time this takes will depend largely on the size of your home and the amount of items you'll be shipping. We'll label boxes individually, and verify the condition of all goods, even providing you with a detailed inventory before we load your belongings securely into our van.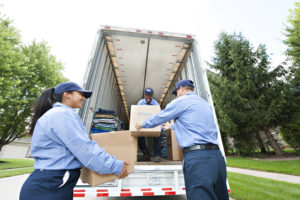 METHODS OF PAYMENT
For interstate moves the tariff provisions require that all charges be paid in full before your shipment can be unloaded at your destination. We accept payment by cash, money order, certified check, or cashier's check. With prior credit approval, you can also charge the expense to your personal credit card. We gladly accept MasterCard, Visa, Discover, and American Express.
DELIVERY, INVENTORY, AND PAYMENT
At least 48 hours before the delivery of your belongings, your driver will contact you. It is at this point that you should make sure your driver has the right destination contact information, before he leaves your origin residence.
When the truck reaches your destination, payment should be made before the truck is unloaded. At that time it is your responsibility to make sure there's no damage to any of your belongings. You will need to check off the inventory sheet as items are brought into your home making sure that there isn't anything missing.
We accept cash, traveler's check, certified check, cashier's check or money order for your move, and you can make payment at any time before the truck is unloaded. If you've been granted prior credit approval, you can also choose to pay by credit card. Wheaton accepts MasterCard, Visa, Discover, and American Express.

UNPACKING
Our packers can help you unpack and dispose of the cartons, or you can take the lead and settle in at your own pace. Either way, the unpacking process goes a long way toward making your new house feel like a home.

SATISFACTION AND SERVICE
We always want to hear from you with your feedback, and after your move we'll follow up with a satisfaction survey to get your thoughts. Our goal is to make sure you're completely satisfied, and we do that by providing excellent, attentive service. But if you have any concerns, we want to hear them.